Waste Management Collection After Flooding
9/1/2017
Waste Management will resume household waste collection in your community on Friday, September 1, 2017, if the streets in your community are deemed safe and are passable.
Some routes may not be completed each designated collection day due to downed power lines, trees, storm debris, damaged highway control systems or roads and long waits for disposal services. In those cases, WM will collect the remaining household garbage from the previous day, starting the next morning.
WM will only collect household garbage. This includes food waste and diapers. Storm Contractors will pick up all storm debris as contracted by your local counties and/or municipalities. Please keep the following items in separate piles (see example in the image below):
1. Household garbage food waste and diapers in bags, cans and/or WM carts
2. Bagged lawn waste such as pine-needles, leaves and small branches
3. Broken tree limbs, fence board/s, carpet and furniture
4. Appliances and other electronics
PLEASE CLEARLY SEPARATE YOUR STORM DEBRIS FROM YOUR HOUSEHOLD GARBAGE FOR PICKUP.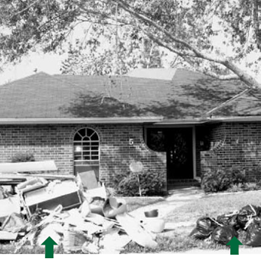 STORM DEBRIS HOUSEHOLD GARBAGE
Thank you for your patience and flexibility while we work together to restore regular service to your community. Our heart goes out to those in our community who have been impacted by this extraordinary storm event. Know we are here to serve and support to the best of our abilities. Thank you for your partnership.
Up-to-date service information is available at http://www.wm.com/alerts.